Happy New Year! We hope you had a good holiday season~ Here's what we've been up to in December, what we accomplished over the year, and some goals for 2023!
December 2022
Before we dive into a big review of the year, let's go over some of the stuff we accomplished before 2022 ended! As per usual, a lot of time was spent visiting family and friends, but we managed to accomplish quite a few things, such as:
Finished 67% (56! submaps) for the last major dungeon
Added a few MSQ skits
Completed some overworld maps
Created more animations for new enemies
2022 Review
2022 can be described as "The Year of Preparation", which – as the name suggests – we focused on preparing the game for the big Content™ addition of 2023. So let's go over some of the things we did!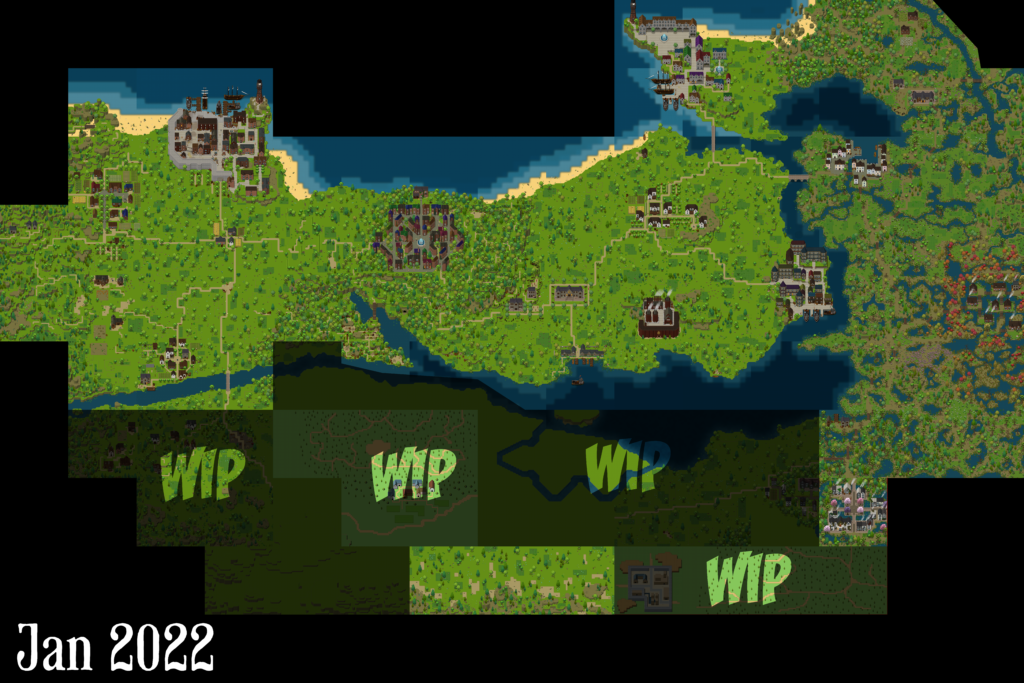 First is the overworld maps. We went from having 3/4 regions completed to (almost) all 4 regions! All that's missing is the little area blending between the two biomes in the bottom right which should be completed soon™.
We also did a big wildlife update during 2022 focused on creating creatures to help the world feel more alive. This also included more than doubling the number of enemies and rebalancing the turn-based battles. We now have 17 passive animals, and 12 new enemies – all with various variants. We even updated some older enemies with variants while we were at it!
Some other key highlights from 2022:
Finished rewriting the end of the game
Finished rewriting the MSQ skits
Updated SFXs for all of the older turn-based battle skills
Designed mechanics, puzzles and visual aspects of the last few dungeons
Added new VFX to the overworld
Improved UI animations
Added skip features to Skits and Cutscenes
Added more emote bubbles
Completed more Debate Portraits
Upgraded our Debate Battle Infrastructure (adding and changing debates are easier than ever!) & converted all of the old debates
Added Gamepad support (and redid our input handling in general)
Upgraded Gamemaker to the current version (and maybe suffered for it)
General Bug Fixes, QoL & Performance Improvements
2023 Plans
As mentioned before – it's the year of Content™. Which means our main focus for the year is to combine all of our hard work together. Our short term goals for the next few months will be:
Complete the remaining overworld maps
Complete the new turn-based enemies, animations, and skills
Add all of the MSQ skits
And as for the rest of the year we will be focused on:
Adding all of the MSQ cutscenes
Finish rewriting all of the debates and related side quests
Finish all city/town interiors and related NPCs
General bug fixes, visual & performance improvements
Take care and see you all next month!